HiTaste P6mini HNB compatible with IQOS, LIL stick
Product Detail
Product Tags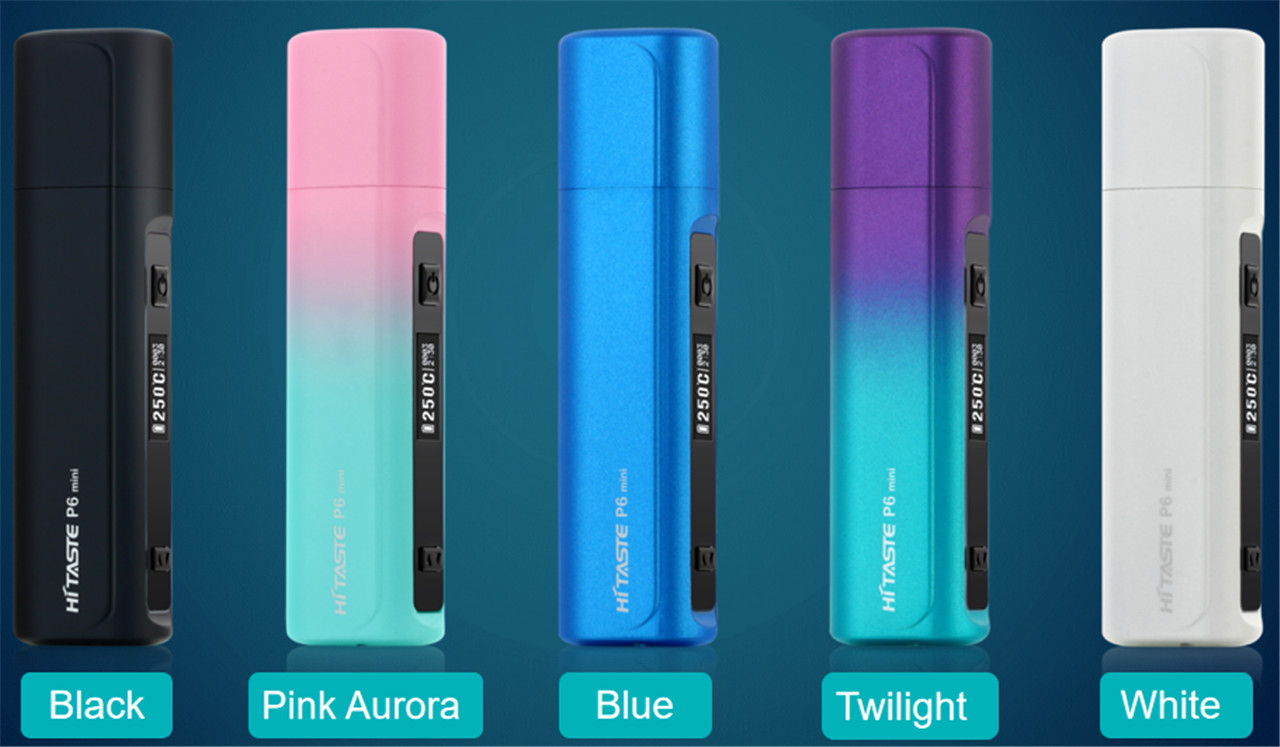 Heat-not-burn cigarettes are different from traditional cigarettes in their mechanism, which heats the tobacco to considerably lower temperatures. In heat not burn devices, the tobacco is heated to 300℃, compared to traditional cigarettes that combust and burn at up to 800℃. Heat not burn products do release fewer toxins and at lower concentrations than normal cigarettes because there's no burning, or combustion, the harmful substances are reduced by more than 90%; no second-hand smoke is generated, and it will not affect the public environment and the health of others. It solves the contradiction between smoking and stopping smoking in public places and is a perfect alternative for traditional cigarettes. The data show that the smoke of heat-not-burn cigarettes contains 80% less carcinogens than ordinary cigarettes, reduces the intake of mutagens by smokers by 70%, and reduces the incidence of bronchitis and pneumonia in smokers by 46% and 36%, greatly reducing the harm of tobacco products to people and becoming a new trend to lead tobacco consumption.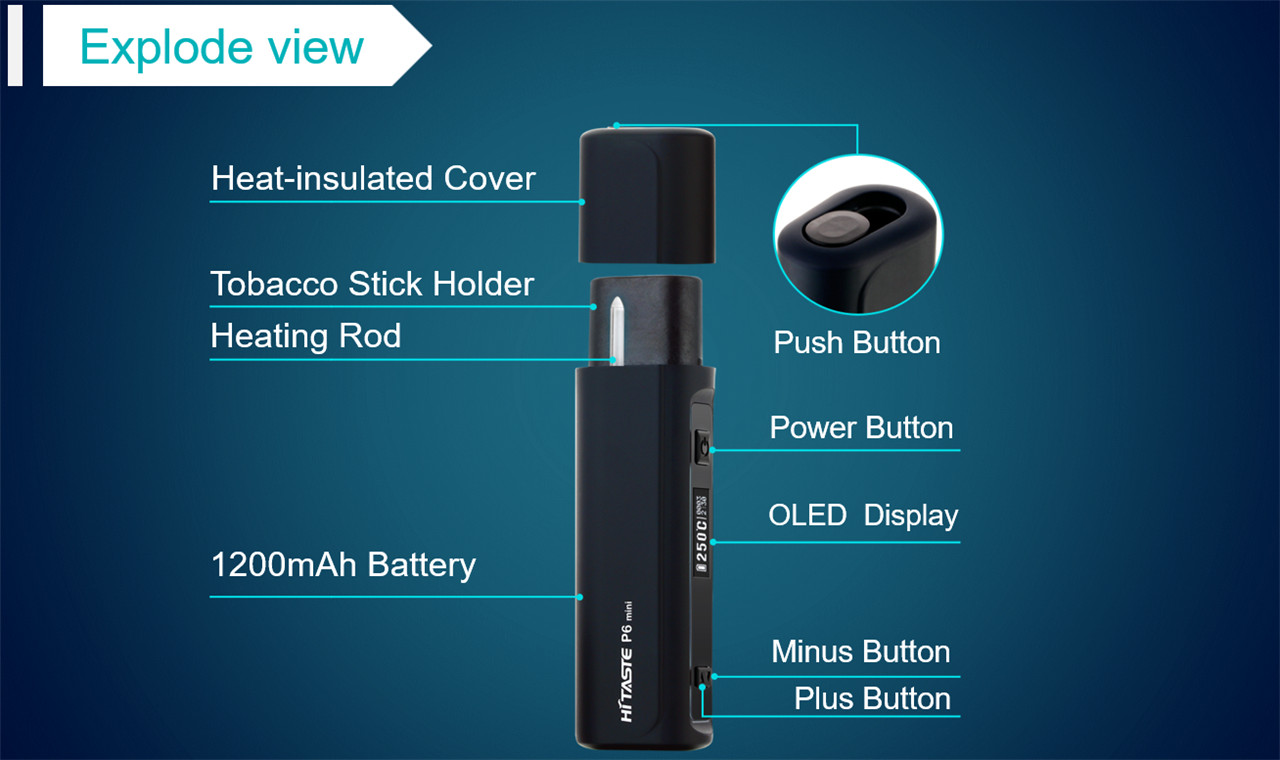 HiTaste P6mini HNB is not like IQOS's blade heating, HiTaste P6mini uses the same pin heating method as LIL instead. HiTaste P6mini uses a 1200mAh battery, which can smoke about 20 sticks when fully charged. With the OLED screen. High Definition screen displays the remaining battery, temperature change, smoking count, number of tobacco sticks and smoking time etc.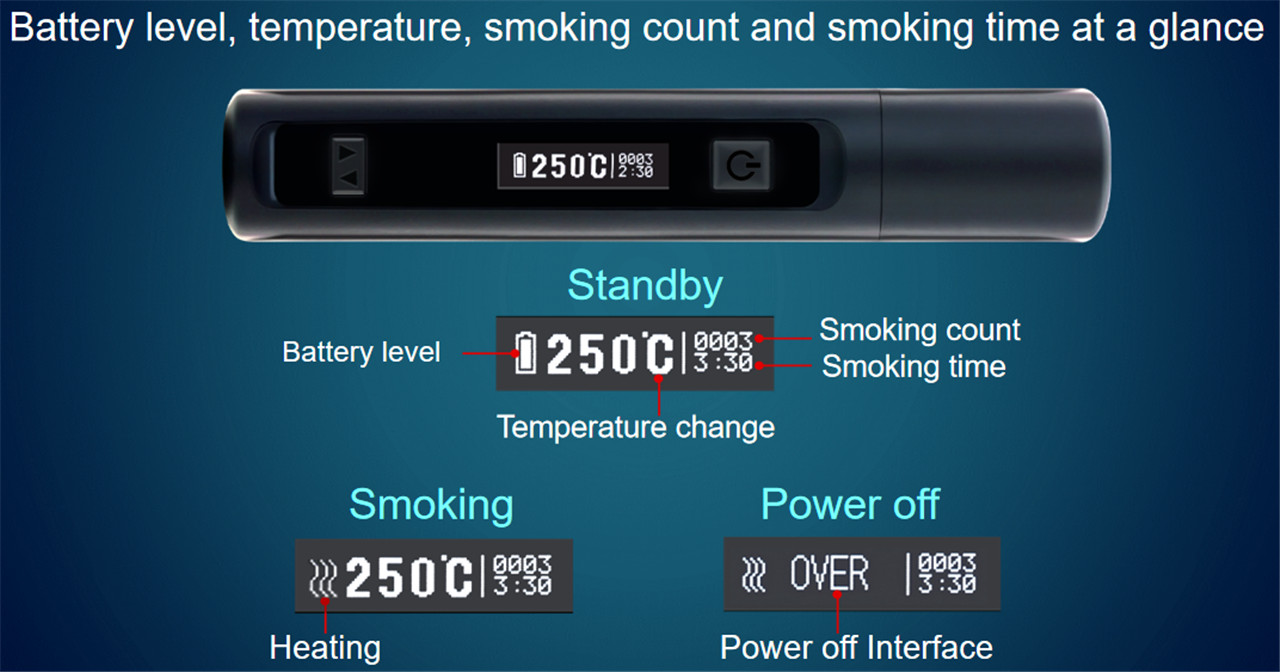 Hitaste P6mini Specifications:
1: Net weight: 55g
2: OLED screen
3: Battery capacity: built-in 1200mah
4: Input voltage: 5V / 500mAh
5: Charging time: 2 hour
6: Warm-up time: 15 seconds
7. Tobacco sticks: Marlboro/HEETS
8. Smoke time: 180-360 seconds
9. Full charge: support 12-15 tobacco sticks
More than 15 people died from smoking every minute on the planet, and that number is still rising every year. Meanwhile, the researchers have found that smokers can regain about 10 years of life if they can quit before the age of 40. Therefore, there's no doubt that the creation of e-cigarettes has given the smokers a healthier option. Many of the people who eventually get rid of cigarettes with the help of e-cigarettes are convinced that vaping technology has the potential to save millions of lives.
---
---
Write your message here and send it to us